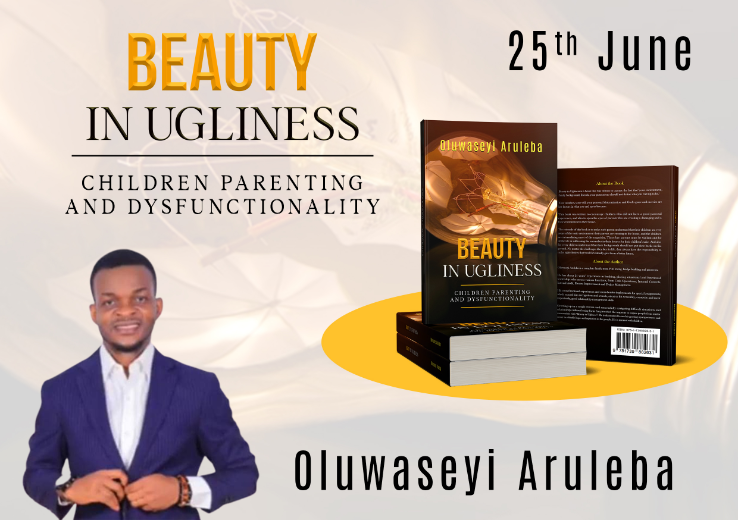 We are very excited to announce the launch of the book of our latest author, BEAUTY IN UGLINESS written by Oluwaseyi Aruleba.
This book is a masterpiece that chronicled the life of the author right from when he was a child.
Beauty in Ugliness explored the depth of parenting, children and dysfunctionality. It was written from the perspective of the children who are caught up in a toxic home, and the battle between their separated or divorced parents, how they have to cope and navigate in such murky waters that they did not choose.
The amazing part of this book was that the author was living in the hood where all sorts of influences surrounded him, yet he was able to choose a life of discipline and integrity amidst living amongst wolfs.
Beauty in Ugliness chronicles the power of choice and discipline, even when everything points to the fact that we should make bad choices as a result of being surrounded with bad influences. The book teaches us that the mind is powerful, and we as individuals right from very impressionable ages, have the power to make right choices.
It also highlighted the fact that even amongst bad influences that we might be surrounded with as friends and acquaintances, we can choose to emulate one or two people with the right influence instead of following the crowd.
All in all, Beauty in Ugliness is a life coaching manual for everyone! It can be read by everyone, including children from the ages of 13, we believe that it would make the right impression on them on the power of choice, and how they have the power to ALWAYS make the right choices irrespective of the circumstances they might be surrounded with.
We celebrate our amazing author, who is launching this amazing book on his 50 years birthday, June 25, 2022.
Many more years of greatness, in good health and strength sir.
To get a copy in paper back or ebook, please click HERE
Thank you for reading and please share with others.
Leadership and personal development books at our store
ABOUT THE AUTHOR
'Seyi aRULEba is @ complete family man. Fun loving, bridge building and generous. He has about 21 years' experience in banking, playing situational and functional leadership roles across various functions, from Cash Operations, Internal Controls, Internal Audit, Process Improvement and Project Management. His cross-functional experiences and cross-border deployments for special assignments, which earned him recognition and awards, attest to his versatility, creativity and most importantly, good relationship management skills. Growing up in a tough terrain and successfully navigating difficult situations and relationships without losing focus has provided the impetus to inspire people from similar communities with "Beauty in Ugliness". He is determined to use his
growing up experiences and career to rekindle hope and aspiration in the people. He is married with children.